We were honoured to have former Wannon MP David Hawker AO officially present the 2021 Salt Creek Scholarship to our laureate Angus Campbell from Tarrington on Tuesday 9th March, 2021. The presentation was slightly delayed due to the state-wide Victorian COVID lockdown and Angus had experienced his first weeks in his new university accommodation.
We were lucky also to have inaugural Scholarship winner Michael Loughhead present as a speaker at the event.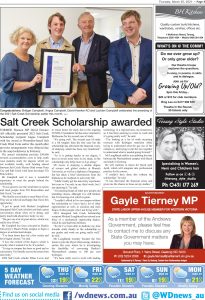 Read the article above featured in the Mortlake Dispatch and Terang Express on March 25th. The article features interviews with current and past winners.