Salt Creek Scholarship Laureate 2021
Angus has lived in Tarrington for most of his life and has a strong connection to south west Victoria. By his own account, Angus believes that living in rural Victoria has really shaped and influenced him and he has taken advantage of the numerous opportunities to follow his passions.  Angus completed his Year 12 at Monivae College in 2019 and while he might not have achieved the highest of ATAR scores, there is no question of his capacity for leadership.
Angus was a school captain in Year 12, a patrol leader at the Australian Scout Jamboree, a member of the State Youth Council of Scouts Victoria, and an active member of the Western District Health Service Youth Advisory Committee.  Not surprisingly, Angus was regularly rewarded for his community service and leadership roles receiving numerous prizes and scholarships at school.
Upon meeting Angus, it is clear that he is a passionate person and seeks to make the most of every opportunity. Angus' involvement and interests at school were varied and manifold – debating, chess, cross country running, book club, rowing drama, dance and public speaking. In the same way he involved himself at school, Angus' enthusiasm for life is evident and infectious. It seems he hasn't a minute to waste.
But what struck the directors of the Salt Creek Scholarship Trust more than anything was Angus' maturity (beyond his years) and his well-developed opinions and ideas. Angus is insightful, considerate and keen to "give back" to the community. With a degree in Architectural Design, Angus wants to improve the built environment for all and hopes to one day assist in prison reform through built solutions.
Angus will be the first member of his family to attend university – already he has made his family proud. Angus has experienced a fair deal of hardship in his life but his tenacity, determination and drive shine through and will no doubt see him make a huge impact in the years ahead.
To help him along the way, the Salt Creek Scholarship will pay for Angus' residential fees over the next three years while he pursues a Bachelor of Architectural Design at Deakin University's Waterfront campus. Angus believes that the scholarship will mean he can focus on his studies without the pressure of full-time work and provide him some financial security over the next few years.
Angus is a very worthy recipient of the third Salt Creek Scholarship.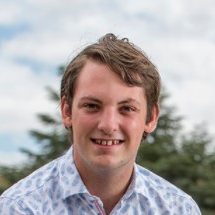 Degree: Bachelor of Architectural Design
Institution: Deakin University
In residence: Deakin Waterfront campus
Career Goal: to develop and ensure more positive community spaces within the built environment, especially in rural and regional areas
Education History: Monivae College, Hamilton, Year 12 in 2019.