Salt Creek Scholarship Laureate 2022
Jaelyn Brand is from Lexton in western Victoria. She is an outstanding student and academic all-rounder. Jaelyn completed her Year 12 studies at Beaufort College in 2021 and was awarded School Dux.
Jaelyn was school captain at Beaufort Secondary College for two years running in 2020 and 2021 and also held the position of Treasurer of the SRC. As was evident to the directors of the Salt Creek Scholarship Trust, Jaelyn has a positive attitude and natural leadership ability that support her "can-do" attitude.
The Principal at Beaufort Secondary College described Jaelyn as considerate of other learners/students and always working collaboratively with them. Above all, Jaelyn is well regarded for being a "bridge between students and staff" given her positive relationship with peers and staff alike. Not surprisingly, Jaelyn was awarded Beaufort Secondary College's "School Spirit" trophy in 2021.
In addition to her academic triumphs, Jaelyn has excelled in public speaking over the past several years. She has represented the Skipton Lions Club in the Lions Youth of the Year competition over several years competing at district finals and taking home the "best speaker" award three years in a row. Jaelyn also successfully competed in other public speaking competitions including with Rotary and Legacy and claims that the thing she loved most about her experience in public speaking was making friends, especially amongst the "older" community. Clearly, Jaelyn is a talented and confident public speaker.
Whilst at school, Jaelyn not only excelled academically but was actively involved in sport and extra-curricular activities. As an active member of the Lexton Football Netball Club, Jaelyn played netball and volunteered regularly with the club. She enjoyed the connections she made both with team and club members and other players.
Jaelyn is clearly a natural leader and role model to many. She is inherently resilient and tenacious – attributes that were very evident to the directors. Despite the many personal challenges Jaelyn has experienced over the past couple of years, her motivation to succeed and community contributions have not been dampened. If anything, she has demonstrated that hard work pays off and has thrived on having multiple responsibilities at school and in the community.
In 2022, Jaelyn chose to take a gap year before embarking on her tertiary studies. The Salt Creek Scholarship will assist Jaelyn significantly by paying her residential fees over the next three years while she pursues her academic studies at Deakin University's Waurn Ponds campus. With help from the scholarship, Jaelyn is looking forward to being able to focus on her studies without having to work full-time to fund her accommodation. Jaelyn is a fiercely independent young woman who clearly has a love of learning.
We look forward to seeing Jaelyn relish the next few years of her tertiary education and her achievements in the next chapter of her life.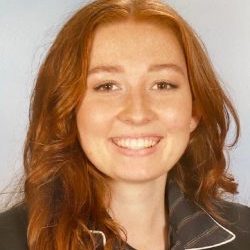 Degree: Bachelor of Arts – Majoring in Anthropology and Philosophy
Institution: Deakin University
In residence: Deakin Waurn Ponds Residence
Career Goal: to help with youth development and crime prevention
Education History: Beaufort Secondary College Year 12 in 2021