Salt Creek Scholarship Laureate 2019
Feb 2022 UPDATE
https://youtu.be/wXxTmN5cwtI  Michael features in ad for Deakin University Mechanical Engineering program
He is appointed as a Student Ambassador for Engineers Australia, the peak industry body for his profession. This is a volunteer position where he will assist with events and sharing the free benefits they offer to students at Deakin.
2019 OUR LAUREAT
Michael Loughhead is from Warrnambool in western Victoria. He is an outstanding student and academic all-rounder. He completed his Year 12 studies (VCE International Baccalaureate) at Warrnambool College in 2017 achieving an ATAR of 93.20. Michael was the school's dux in both Specialist Mathematic and Indonesian. Michael started out at Warrnambool College in the Select Entry Accelerated Learning (SEAL) program.
Michael's house teacher described him as "impressive, positive and influential" and as having many natural leadership qualities.  Aside from being a high achiever, he is diligent, hardworking and applies himself to every task with determination.
What is striking about Michael is his positive outlook and enthusiasm for life as well as his happy and amiable disposition. These qualities mean that Michael makes the most of every opportunity. He constantly looks for ways to improve himself and to support others.
Michael is also a talented and versatile sportsman with various interests including soccer and hockey – preferring team sports for their camaraderie and confidence building.
During his gap year in 2018, Michael worked several part-time jobs to save money for his studies and remained focussed on his goal of tertiary studies. He also managed to complete a traineeship while working as a Numeracy Assistant across the Year 7 to 9 levels at his old school.  Michael also assisted teaching staff at a Year 8 camp for boys where the focus was on positive masculinity. In this capacity, one staff member described how Michael proved to be "an exceptional example of the type of man who we hope our younger boys would aspire to be". It is clear that Michael is compassionate, kind and puts others ahead of himself.
Michael's strength of character is his willingness to assist others and give back to his community. He is keen to have an impact on the world and hopes to use his personal and leadership skills and ultimate qualifications to good end. Michael is passionate about the environment and can see that there is huge scope for the development of renewable energy technologies. He will no doubt find many opportunities in this field once he is qualified as a mechanical engineer.
Michael is a very worthy recipient of the inaugural Salt Creek Scholarship.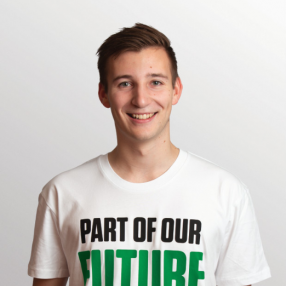 Degree: Bachelor of Mechanical Engineering
Institution: Deakin University
In residence: Deakin Waurn Ponds Residence
Career Goal: to make the world a better place through renewable energy
Education History: Warrnambool College Year 12 in 2017