Salt Creek Scholarship Laureate 2023
Zoe is from Camperdown in South West Victoria. She attended Camperdown College from Prep through to Year 12, finishing her schooling in 2020 as Dux with an ATAR of 98.7. Zoe was appointed Camperdown College's Social Justice Captain in 2019 and Student Voice Captain in 2020. Additionally, during both years she was the student representative for the School Council.
After finishing school, Zoe commenced a twelve month Education Support Traineeship at Cobden Primary School, an experience from which she gained valuable skills and lots of enjoyment. The following year Zoe spent six months working as a legal assistant at GRITLegal in Camperdown, before embarking on a working holiday up the east coast of Australia.
In her free time, Zoe enjoys playing hockey and netball competitively. She volunteers as a coach and umpire at Corangamite Junior Hockey Club and works in paid roles teaching hockey skills as well as swimming lessons at local schools. Zoe is excited about the sports facilities and opportunities offered at university.
Zoe will commence a double degree at Monash University in February 2023. Her choice to study the Bachelor of Laws and Bachelor of Global Studies reflects her interests in politics, history and social justice as well as her desire to drive progress towards a fairer and more just world. While unsure exactly where her passions and studies will lead her, Zoe hopes to work in the field of human rights and can envisage herself having a career in diplomacy, politics or humanitarian aid.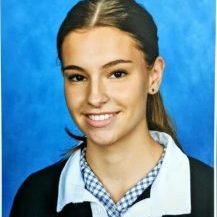 Degree: Bachelor of Laws (Honours) and Bachelor of Global Studies
Institution: Monash University
In residence: Clayton Urban Community at Monash University
Career Goal: I want to drive long-lasting and large-scale global change.
Education History: Camperdown College, Year 12 in 2020.
OCTOBER 2023
My first year at Monash Uni has been full of learning, fun and new experiences.
Living on campus has been the perfect introduction to Uni life; my room is only a five minute walk to my classes, there are strong supports for first-year students and, most importantly, I feel a real sense of community with the other residents.
My studies were really challenging at the beginning as I figured out the expectations and processes at University. Now that I've got the hang of it I'm able to get the most out of my classes and study more efficiently. I was recently awarded the Enid Campbell Award for Academic Excellence in the Faculty of Law at Monash for my results in Semester 1.
This year I continued to play netball competitively at Simpson as well as work as a legal assistant at GRIT Legal in Camperdown. I travel home from Melbourne weekly to continue doing both of these.
I visited Indonesia with friends in the mid-year break which was incredible. It inspired me to look at options to re-start my Indonesian language studies – which I haven't done since school. I'm also excited to be going on a study-tour to India at the end of the year with Monash Uni. We will spend two weeks visiting Universities and communities in Mumbai to learn about the issues caused by overpopulation in India.
Overall, I'm really looking forward to my second year of study and making the most of more opportunities that come with Uni life.