Jaelyn Brand from Lexton, Victoria is our 2022 Salt Creek Scholarship laureate.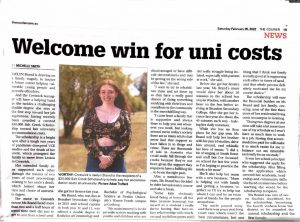 In 2022, Jaelyn has chosen to take a gap year to assist her mother who is setting up her own small business but also to take a break from study before embarking on her tertiary studies.
She will commence her studies in her chosen field in 2023 at Deakin University.
Read the THE COURIER's story above via this link: https://cyarchitects.egnyte.com/dl/OI7EKvi8KP
We congratulate Jaelyn on her achievement